Girl Spanks Girl is a Clare Fonda's Exclusive all F/F spanking website which offers traditional OTK as well as erotic spanking. We have over 4,000 video clips of girls spanking girls in our members section and we update with a new video clip every day. The stories here involve only females and are directed and produced by a female spanking enthusiast, although we love to hear feedback from gentlemen. We are best known for our long schoolgirl spanking video Exclusive Education and other full length films which feature hand, hairbush, paddle strap and cane. We offer excellent customer service, ease of use and fresh content daily with new talent and well-known models. Girl Spanks Girl is the home of the Exclusive Education video series. By joining now you get access to all seven years of spanked schoolgirl videos with the entire Exclusive Education series (episodes 1 thru 7) as well as our other bare bottom spanking films. All seven schoolgirl spanking dramas can be seen in their entirety on this website, both in clip form and as long videos, all easily downloadable. Every scene is girls spanking girls, no men at all! We specialize in long films. We use traditional domestic discipline.
*NEW* EXCLUSIVE EDUCATION 8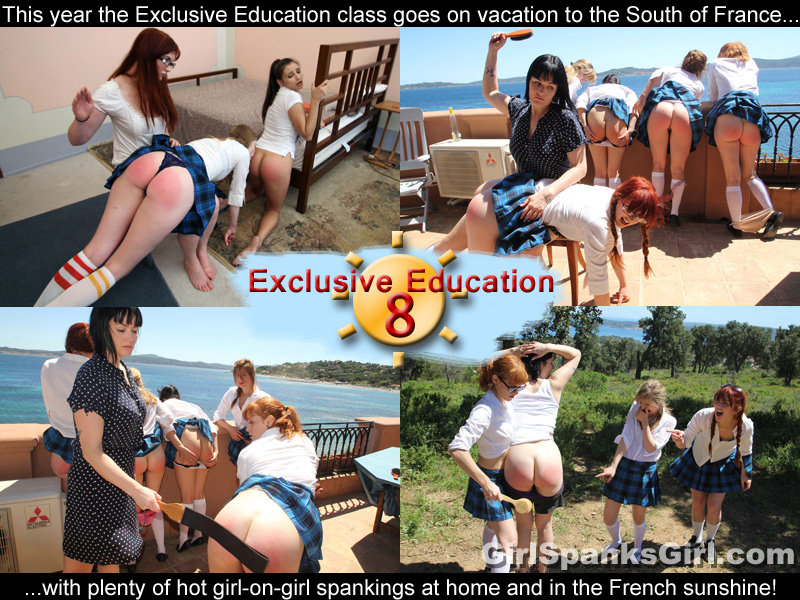 "EXCLUSIVE EDUCATION 8" is the eighth year of the schoolgirl drama, this year the action revolves around a trip to the South of France.
Part 1 of the epic starts in a dorm room in the states. Student Veronica Ricci has learned that Celeste Star and Ela Darling were cheating in class. Veronica says that she won't tell the teacher, Snow Mercy, who is heading the field trip, if the girls agree to take a spanking. So Veronica gives them both a sound hand spanking over her knee. But then she goes back on her word and tells anyway, so the two girls team up and spank Veronica super hard, also using a wooden mirror to mark her bottom heavily.
Part 2 follows the school field trip in France with Ms Snow keeping the girls in line. In the classic tradition of the Exclusive Education series, she spanks each naughty schoolgirl one by one with hand on the first round, then with hairbrush on the second round. The schoolgirls on the field trip are played by Veronica Ricci, Missy Rhodes, Nikki Rogue, Koko Kitten and Buffy Buffington, and each one is well-spanked in the French sunshine.
The field trip continues in Part 3 when the ladies go on a hike, with some of the schoolgirls looking for revenge from teacher Ms Snow.
...To Be Continued...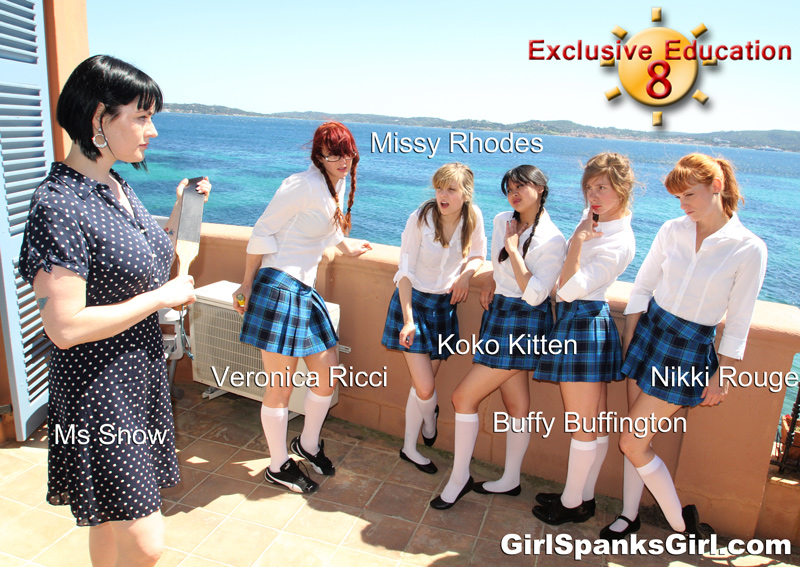 If you are looking for otk girl spanking and erotic F/F spanking you have found it with Girl Spanks Girl JOIN HERE or read about a way to join all of Clare Fonda's sites for one low price on Clare Fonda Pass. OTK spanking, erotic spanking, spanked cheerleaders, strict teachers punish naughty schoolgirls with hard discipline, girls spanking girls only! We offer so much because we update daily. Over 4,000 video clips and a new video clip every day.